Hello again!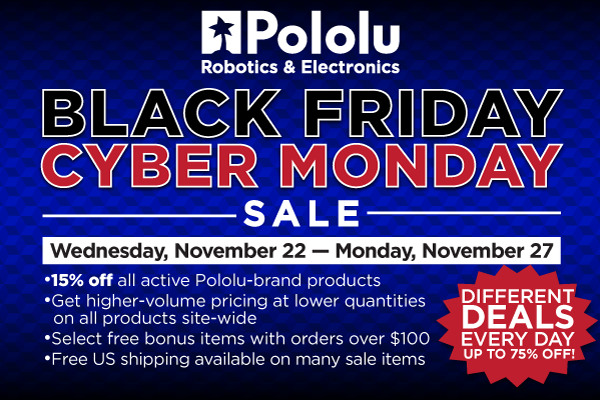 Pololu Robotics and Electronics
is having a big
Black Friday/Cyber Monday sale
sale again this year, with different daily deals up to 75% off, 15% off all active Pololu-brand products, and upgrades to the next best price breaks on everything else! Pololu is also offering free bonus items with orders over $100 and free US shipping on many sale items. Save big on robots, programmable controllers, sensors, motor and servo controllers, power supplies, LEDs, actuators, wheels, breadboards, wires, and more. The first doorbuster deals go live Wednesday, November 22, and the sale runs through Cyber Monday (November 27). For details, visit
https://www.pololu.com/blackfriday2017
.
PIC users might be particularly interested in our
P-Star programmable controllers
, which are based on the PIC18F25K50 and PIC18F45K50. Also, if you're into Arduino-compatible boards, check out our
A-Star Programmable Controllers
, based on the ATmega32U4.
--David